The LJD Story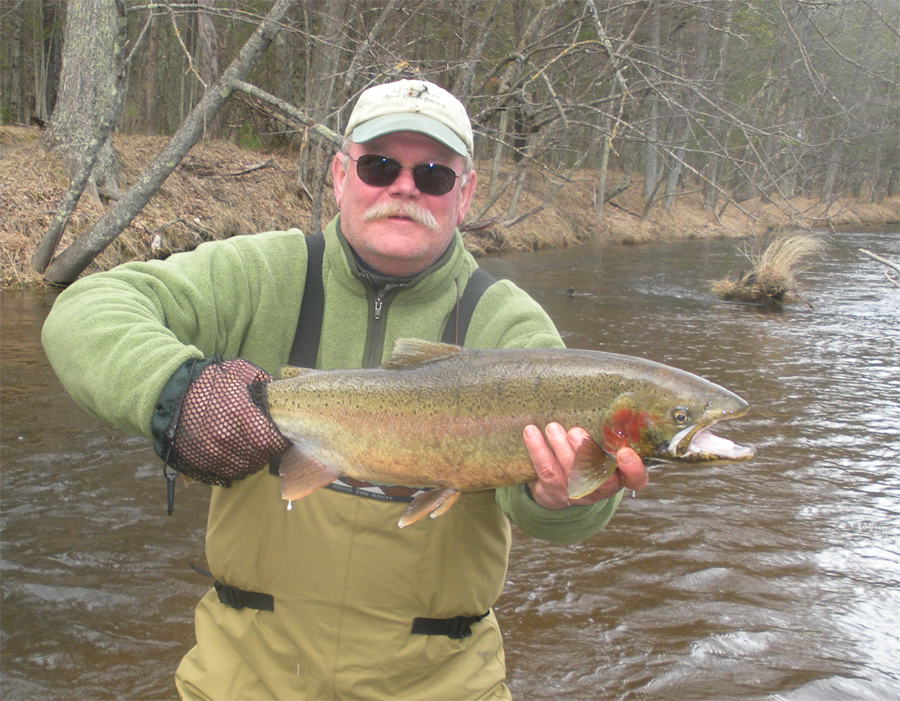 Jim Downes has been building bamboo fly rods professionally for more than 15 years. The enthusiasm and dedication to the art of cane rod making is reflected in the exacting fly rods he crafts. Culms of bamboo used in the L J Downes rod shop were hand selected in China over two decades ago. His tapers are proprietary, based on but not copied from Heddon's high-end fly rods. Attention to detail and outstanding workmanship are the hallmarks of an L J Downes bamboo fly rod. Not only are these rods pleasing to the eye, they are made to be fished!
Jim's path to master rod maker had a curious beginning and some fortunate turns along the way. To a teenager growing up on a farm in central New Jersey, fly rod repair meant rewrapping the guides of a $2.00 hardware store cane rod with his grandmother's sewing thread; the wraps were kept in place using nail polish borrowed from his Mother. Loose ferrules were tightened by wrapping them with bailing wire and broken rod sections were simply splinted together with whatever was handy then secured with tape.
After a brief and unsatisfying venture into fishing store bought fiberglass and high modulus graphite, Jim decided to try building his own bamboo fly rod.. Using a home made planning form constructed and filed by hand, a supply of bamboo growing in a neighbor's backyard pond, Elmer's glue to hold strips together and binding them by hand, his first rods were assembled. As you might expect, the results were less than satisfactory. Help, particularly of a professional nature, was needed here.
Help came by way of meeting rod maker George Maurer. George became a mentor and friend to Jim, providing the right tools, instruction and encouragement that permitted him to turn a culm of bamboo into a work of art and practical fly-fishing tool. The first rod Jim built with Maurer was a 2 piece, 2 tip 7'6" 4 wt. The finished rod had no glue lines, no twists and all the sections were the same length; just like a 'store bought' rod! A milestone in Jim's rod making career had been reached. The productive friendship between rod makers continued until George's untimely passing in 2008.
Applying the varnish finish to a cane rod is itself an art. New Jersey neighbor and friend George Guba showed Jim the finer points of winding and varnishing a cane rod. Mr. Guba is also well known for his skills at rod restoration and repair. Working along with George in his basement shop Jim honed his rod finishing expertise.
Today Jim is a full time rod maker, living and working in the heart of Central Pennsylvania's trout stream country. His rod shop is located in Coburn, PA on the banks of Penns Creek, one of the states finest limestone streams. In the time left between building cane rods and trout fishing, he also teaches bamboo rod building classes. Thus continuing the tradition of crafting fly rods made from hand tapered strips of bamboo and the long heritage of makers past and present across the country.
Jim is currently working with Walt Carpenter to produce a series of 3 rods in the Catskill Tradition. The tapers originated when Walt worked as a Master Rod Maker at the Payne Rod Company. The rod cosmetics are a collaborative effort between Walt and Jim. The rods are being built by Jim in his shop.
You are invited to stop by the rod shop and see how split cane rods are made. Talk with the maker, take rod out and cast it. You will be impressed at how well they cast. According to Jim 'there is no difference between need and want when it comes to bamboo rods."
Here are some opinions of Jim Downes
If you want a proprietary rod taper designed by a modern maker get it from him.

Don't assume that a Payne 97 made by Payne is exactly the same feel as one made by a modern maker.
Most modern makers make better rods that the old masters. With a few exceptions.
Never buy a rod to fish with out trying it. At least lawn cast it, regardless of price.
Collectables are in a different category. I don't collect so I have no opinions.
There is no difference between need and want when it comes to bamboo rods.
I don't copy tapers but I did start with some Heddon tapers.
Never loose sight of the fact that it is just a fishing rod and meant to be fished.